Caramel Square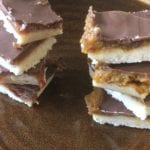 Shortbread base
1⅓ cups Coconut flour
1/2 cup Maple syrup
1/2 cup Melted coconut oil
Date Caramel layer
20 Medjool dates
3 tbsp Coconut cream
1 tsp Vanilla
Chocolate topping
200 grams Dark chocolate
1 tbsp Melted coconut oil
Soak dates in warm water for about 15-20 minutes.

Combine coconut flour, maple syrup and coconut oil.

Drain the dates and blend in a food processor (or blender).

Add coconut cream and vanilla, blend until smooth.

Line a baking tray with parchment paper.

Spread the shortbread crust on the tray, pressing firmly

Spread caramel layer next and cool in refrigerator.

Melt chocolate and coconut oil, then pour evenly over caramel layer.

It will take about 1 hour to set.

Enjoy!